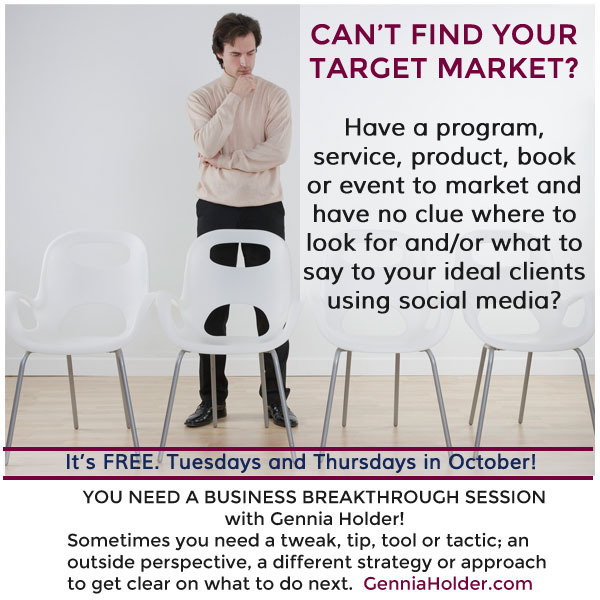 Your products and services are amazing.  You put your heart and soul, not to mention blood, sweat and tears into them. It will help people earn more money, feel beautiful, raise their self-esteem, save their marriage or change their outlook on life.
People need what you offer. You know you can make a difference.
IF you know how to find and market to your clients online.
You don't just wake up one day knowing how to use social media and make money.
Being an entrepreneur is hard work.  The survival of your business is all on you.  Sometimes you need a partner or an expert who can guide you through the process of knowing where to find your prospects online, how to join conversations and get noticed without feeling pushing or coming off as a stalker.
Imagine finally making the business you created and love work for you.  I can help you.
I can guide you through the process of being seen and heard online. And I'm on talking just anyone or anywhere.  I mean smack dab in front of your people (a/k/a target market, ideal client). But you have to be geared up, committed and motivated to put in the time and resources to make it happen.
Please take the time to answer these questions thoughtfully so I can have the information I need before I hop on the phone with you.
Get clear on the what you need to do about your most pressing, "keeping me up at night, my head is spinning" issues . . . the ones holding you back, during a FREE 15 minute, pitch-free mini-session.
With all the information out there on Facebook, Twitter, LinkedIn, launching new products, list building and whatever else, you can end up overwhelmed with information and not sure what works for your business.
The answer:  15 Minutes to ask me anything about your social media marketing hurdles to give you a breakthrough and keep that thing moving.  I'm talking actionable items.  And it's FREE!
You might be:
Looking to build buzz for a new product, service or program
Have an opt-in freebie hot off the press you want to promote
Marketing to a particular niche and are short on ideas
Looking to get more engagement (likes, comments, shares) on your content
Not sure which activities to focus on for a specific promotion
You need a tweak, tip, tool or tactic; an outside perspective, a different strategy or approach . . . to figure out what to do next.
Your Business Breakthrough Session will leave you feeling focused and clear about what will work for you.
And that's all in a 15 short minutes.
How it goes down. . .
Let me know you're ready by 

applying here

I will email you to book your session
We meet on Skype (no video, so pj's are fine)
We  have a laser focused session focused on fixing your marketing problem
I'll provide you with your next steps to keep the momentum going in your business and doing what you love everyday.
Sign up for your Business Breakthrough Session

here